The west of Ireland is calling you with this one-week, small group tour!
Travel to the beautiful island of Inishbofin and stay two nights for a wonderful island experience. Explore the dramatic cliffs, sea stacks, and massive interconnected blowholes. Marvel at border collies and their cunning sheep herding skills. Discover why Yeats called western Ireland a place of savage beauty as you travel through Sligo and Connemara. Step back in time as you visit a medieval friary and ancient portal tomb older than the Egyptian pyramids. Stay for two nights in lively Westport with great traditional Irish music, pubs, and shops. Our most active tour, Go West is for those seeking adventure!
Roam through western Ireland, travel along the Wild Atlantic Way, and discover its best-kept secrets! All this and more on the Go West tour – please see below for all the details.
Go West Tour Itinerary
Read all about this fantastic one-week tour taking you to the best back roads sites, quaint coastal towns, and majestic scenery in beautiful western Ireland! Go West is our most active tour--perfect for those who like gentle hikes as you take in Western Ireland's stunning landscapes!
Select "+" to read about a specific day or select "expand all" to read the entire itinerary. Slainte! (Irish for Cheers!)
Expand all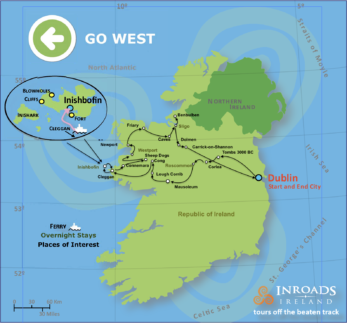 (click map for larger view)
Go West Tour Fact Sheet
On the one-week Go West tour, you discover Ireland's best off-the-beaten-track sites in western Ireland!
Stay two nights on the beautiful & remote Island of Inishbofin
Visit a megalithic tomb with celestial charts & solar alignments older than Egypt's great pyramids
Be captivated by a sheep dog demo as spirited border collies show their skill for herding sheep
Visit legendary hilltop caves, a Medieval Franciscan Friary, and the secrets of County Sligo
See incredible stained glass windows by an Irish master & the mysterious 2,000 year old Corlea Trackway
Explore the wild coasts and beautiful towns of Connemara
Stay for two nights in festive Westport with great shops, tasty food, and traditional Irish music
Experience rugged Connemara, its wild ponies, tranquil lakes, & majestic mountain landscape
Counties Visited: Galway, Mayo, Sligo, Meath, Longford, Cavan, Dublin
| | |
| --- | --- |
| Tour Length | One-week tour of western Ireland with 7 full days of touring and 8 overnights |
| When to Go | Ireland is best from May to September – Lively towns, colorful countryside, and long days of light. Plus, it's always off-season with our back roads tour style 😃 |
| Small Groups | Enjoy the small group experience with an average of only 14 people per tour! |
| Transportation | Travel Ireland's back roads in a Mercedes mini-bus with comfortable, reclining leather seats and brilliant views above Ireland's many stone walls and hedgerows |
| Accommodations | Stay in small towns in beautiful, local B&Bs, Guesthouses, and Boutique Hotels |
| Meals & Dining | Hearty traditional Irish breakfasts are included in your tour package. Enjoy free time for lunch and dinner to discover fun restaurants to suit your unique taste. |
| Tour Guides | The best Irish guides – experts with years of tour guiding experience |
| Start & End Points | The tour starts and ends in Dublin, Ireland at a beautiful hotel in the heart of the city center |
| What to Pack & FAQs | We've compiled an extensive Trip Prep & FAQs page to answer all your questions! |
2024 Go West Tour Dates
June 17 - 24
July 29 - August 04
September 02 - 09
2024 Go West Tour Price -- $3410 (USD) per person based on double occupancy
Our upfront price has no hidden costs or excursion fees.
For solo travelers, there is a US$615 single supplement.
Guaranteed departures. No worries if the tour doesn't fill up to the maximum, our departures are always guaranteed.
Included in the tour price: 7 full days of touring in a mini-coach with your expert Irish guide, 8 nights accommodations, site entrance fees, local tours, round trip ferry to Inishbofin, and full Irish breakfasts
Not included in the tour price: Airfare to/from Dublin, Ireland, lunches, and dinners
2024 Tours Are Open for Reservations!
All prices are in U.S. dollars and per person (based on double occupancy). Our upfront price has no hidden costs or excursion fees. For solo travelers, there is a US$615 single supplement.
2024 Go West tour: US$3410
Full payment is due when you reserve your tour. Your payment options are Visa, MasterCard, Discover, PayPal, or Check.
Guaranteed Departures. No worries if the tour doesn't fill up to the maximum, our departures are always guaranteed.
Combination Special! Double or triple the fun and create your own vacation package. Combine 2 tours and save US$200. Combine 3 tours and save US$300.
2024 Go West Tour Dates
June 17 -24
July 29 - August 05
September 02 - 09
What's Included in the Go West Tour Price?
8 nights of accommodations in guest houses and hotels based on double occupancy (Monday through Monday). For solo travelers, please see the 'Solo Travelers' section below.
7 days of touring and sightseeing (Tuesday through Monday)
Touring in a comfortable Mercedes mini-coach with your experienced Irish tour guide
Round trip ferry to the island of Inishbofin
All admissions into historical sites and local tours
Daily Irish breakfasts
Our upfront price has no hidden costs or excursion fees

When you make a reservation, you receive a confirmation email with details about the meeting hotel in Dublin's city center.
Want to come to Dublin a few days before the tour or stay longer after the tour and book additional in your confirmation email you receive information about how to book additional nights at the Dublin hotel.
What's Not Included in the Tour Price?
Airfare to / from Dublin, Ireland
Lunches and dinners
Personal expenses / Gratuities
Solo Travelers
If you are traveling solo, there is a US$615 single supplement.
You can have your own room OR share a room with another solo traveler of the same gender.
If you choose to share a room and we can provide a roommate, the US$615 single supplement will be refunded.
Western Ireland Tour Guide
We cannot speak highly enough of our native Irish guides. Eager to share their exceptional knowledge of their homeland, our guides will add energy and excitement to your Irish vacation. Their easy-going nature and enthusiasm for travel will make them feel like a lifelong friend and in no time, they will be.
With our friendly guides by your side throughout various escorted tours, you will explore the wondrous castles, Atlantic coastline, and glacial drumlins Western Ireland has to offer. Make this a vacation you will remember through the places you experience and the people you meet through Inroads Ireland tours.

Thank you so much for a wonderful Irish experience! This trip far exceeded my expectations and they were set high. The schedule had the right mix of planned and free time to support activities, fun and relaxing time. Each overnight stay accommodations were so welcoming and charming. Our guide was delightful with his Irish tales and knowledge of the local history. I loved this trip. I have already and will continue to recommend Inroads Ireland for anyone wanting a lovely touring experience!
Annette from New Albany, Indiana, USA
Meet Your Guides
Meet Hugh, Jonny & Eamon - expert Irish guides waiting to show you the very best of Ireland!
Hugh is from Dublin, Ireland and is a seasoned world traveler with a passion for unique travel experiences and has guided groups throughout the world including China, Brazil, and Chile. His unflappable countenance, fun loving nature and love of Ireland's rich cultural diversity has made him fast friends with our great travelers seeking new adventures on Ireland's maze of back roads and cultural landscape.
When Hugh is not showing you the best of Ireland's rural splendor, he bikes it for fun, and in the dark winter months, he enlightens the masses at the much-lauded Maynooth University just outside Dublin.
Jonny is from Galway, Ireland and is a renowned classic car restoration expert who, as a kid began exploring his homeland on his grandfather's assignments as the official photographer for Ireland's vast array of heritage sites. Later he ran into the bucolic hinterland and onto winning Ireland's cross-country championships. His great humor and pride in Ireland's epic culture is infectious and through his lens, you'll focus on what makes Ireland so truly fun, friendly and fascinating.
Between revealing Ireland's great back roads and hidden delights, he helps ensure his young children flourish, fully immersed in this fantastical ancient land!
Transportation
Take in Ireland in a Mercedes comfortable mini-coach, small enough to navigate Ireland's twisting and narrow back roads and get you to the off-the-beaten-track places.
I enjoyed both tours (Go West and Go North) immensely. I can't come up with a favorite part. Our guide was superb: an excellent driver, friendly, helpful, full of good humor, very knowledgeable. He is of great value to your company!
Kurt from Redmond, Washington, USA
Our guide made Ireland 'come alive' for us as he chatted on, telling one story after another. The frequent stops were welcome, giving us a chance to walk a bit and explore our surroundings. There were many personal touches we don't think would have been possible in a much larger group. Carolyn and Phil always went 'above and beyond' to make sure we were happy. They even arranged a surprise celebration of our wedding anniversary; such a lovely gesture. Thank you!
Tom and Margaret-Ellen from New Glasgow, Nova Scotia, Canada
Our guide was the absolute BEST! He was extremely knowledgeable, had a wonderful sense of humor, and was so helpful in recommending places to eat and see during our free time. He shared his love of Ireland, immersed us in the Irish culture, and taught us so much history of his beautiful country.
Amy & Andy from Cherry Hills, New Jersey, USA
Thank you for making each of us welcome and bringing a group of strangers together in such a way we all felt comfortable. I am unable to convey the gratitude and appreciation I have for your integrity, your professionalism, all your amazing stories, and being able to balance each day so well. I hope to return and without any doubt we will be booking through you again...having the certainty that all things are taken care of is such a spoiling vacation!!!
Jill from University Place, Washington, USA
Overnight Stays
An important part of any Irish vacation is a great place to stay and a relaxing night's sleep.
All of your accommodations (B&B, guest house, or hotel) have been carefully selected for their excellent location in the small towns (step out your door for food, drinks, shopping, music, and evening walks) and the high level of comfort each room provides. Add to that your welcoming Irish host and a good time is guaranteed 😃
Stay in locally owned, beautiful B&B's, guesthouses, and hotels.
Each room has a private bathroom (en suite).
A delicious and hearty Irish breakfast is included.
When making a reservation, you will have the option of choosing a room (Double or Single) and your sleeping arrangements.
Solo travelers:
If you are not sharing a room, there is a single supplement of US$615.
If you are traveling solo, you have the option of sharing a room with another solo traveler of the same gender.

You will be charged a US$615 single supplement. If we are able to provide a roommate, the US$615 will be refunded.